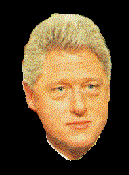 Greetings from your guide to the abyss. I am Lord Billy Bob, underworld priest of black metal and all that is evil....Yes, even more evil than Danzig and Norwegian Black Metal. You think that burning churches is evil?Or killing your fellow bandmates?Or bludgeoning homosexuals is the way to catch Satan's eye? You do not realize that the Allmighty Lord Billy Bob is SATAN incarnate.
Don't believe me?
Then answer this....Can Satan raise your taxes? Can Satan lower the minimum wage? Can Satan send the FBI or CIA to your house? Can Satan get the Crime Bill passed? Can Satan overthrow your nation?
Can Satan attend a University of Arkansas homegame without buying tickets?

So, who's laughing now,devilboy....

Bow before Lord Billy or feel the rage of my Alabama Deathblow....

SITES OF EVIL FROM LORD BILLY BOB
NORWAY BLACK METAL
a look into the the chaotic world of church burnings, murder and 20 year old Venom disciples overcompensating through Satanism

www.blackmetal.com Last changes to this site were:
Internet Search